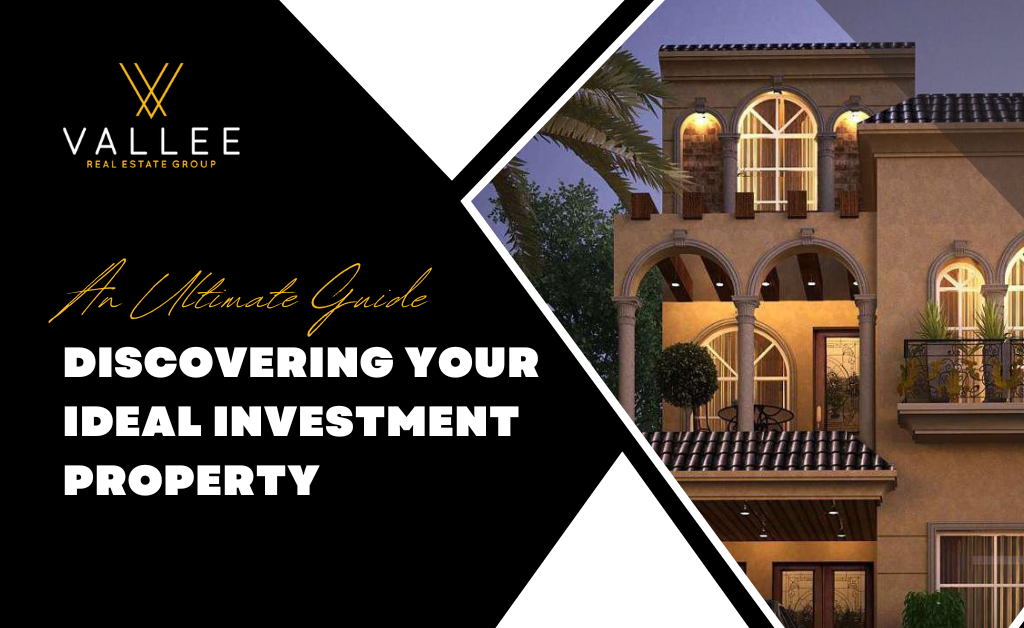 Discovering Your Ideal Investment Property: An Ultimate Guide
Welcome to our in-depth guide on finding the best investment property in Canada. This manual is your road map to success whether you're an experienced real estate investor trying to diversify your holdings or a first-time buyer hoping to make a wise financial move in the Great White North. While
real estate investing
in Canada can be enticing, it comes with its share of complexities and challenges In this blog, we'll walk you through the crucial procedures and factors, assisting you in making knowledgeable choices, avoiding frequent traps, and eventually showing you why Vallee is the best option for your real estate needs. 
Understanding the Canadian Real Estate Market
 The buying and selling of houses and other properties within Canada is the core of the
Canadian real estate
market. People engage in this activity for a variety of purposes, including locating housing, investing, and making money. 
You find a home or piece of property you like and submit an offer to purchase it. You take over ownership if the offer is accepted! If you wish to sell your home, you post it on the market. When a buyer shows interest, they make an offer, which you can accept or counter. 
●
Factors That Affect the Market
A number of factors affect how the real estate market changes, including:
Location: A property's location is important. Popular regions may have higher prices.
Economy: More individuals can afford to purchase homes if the economy is strong.
Interest Rates: Low interest rates mean cheaper mortgages, which can boost the market. 
●
Types of Properties
There are various sorts of real estate, including homes, apartments, and condominiums. Each has benefits and drawbacks.
In addition to the actual cost of the property when you purchase one, you also have to pay for taxes, legal fees, and inspections. These expenses may mount up. 
Setting Your Investment Goals & Investment Property Types
Investment objectives serve as financial maps. Here are a few easy steps to help you set goals: 




➢

    

Consider Your Motivation:

Why do you want to invest? Is it to invest for the future, make passive income, or perhaps to purchase the home of your dreams?




➢

    

Choose a Timeframe:

When do you wish to accomplish your objectives? It could be temporary or permanent.




➢

    

Set a Budget:

Decide how much money you can invest without it affecting your daily life by creating a budget.




 Types of Investment PropertyInvestment properties come in many different forms. Let's examine a few basic alternatives: 




➢

    

Residential properties:

These are residences where people live in houses or apartments. You may elicit a consistent income by renting them out.




➢

    

Commercial real estate

consists of warehouses, shopping malls, and office buildings. These locations are rented by businesses, and you can make money through rentals.




➢

    

Vacation rentals:

If you own a home in a popular tourist area, you can rent it out to tourists.




➢

    

Fixer-Uppers:

These are homes that require some improvement. You can purchase them for less, renovate them, and then sell or rent them at a profit. 




Matching Property Types with Your Goals

The kind of property you select should meet your investment objectives. For instance, residential real estate or holiday rentals can be appropriate if you want immediate money. Land or commercial properties can be better choices if you're searching for long-term growth.




 Consult a professional

Real estate investing

can be challenging. To make wise judgments, it's a good idea to speak with a real estate agent or financial counsellor. Vallee real estate is the best choice you can make for your real estate needs living in Canada. 
Our Role in Property Management and Rental Income
Real estate investing
can be an excellent strategy to generate rental income, but it comes with responsibilities. Efficient property management is crucial for success. In this article, we'll explore property management, increasing rental income, the importance of property inspections, and the valuable role that Vallee Real Estate can play in your real estate journey. 
●
Managing and Maintaining Your Investment Property
Owning a rental property involves numerous obligations. It's not just about buying a property and renting it out; you must also manage it effectively.
This is where Vallee Real Estate steps in to help. 
➢
Repairs and Maintenance: 
Vallee Real Estate can handle maintenance issues promptly, saving you time and effort.
➢
Dealing with Tenant Concerns: 
Their team can efficiently address tenant concerns and ensure tenant satisfaction.
Vallee Real Estate offers professional rent collection services, ensuring you receive your income on time.
They maintain meticulous records of expenses and income, providing you with transparent financial insights.  
●
Strategies for Maximizing Rental Income
To maximize your rental income, it's essential to employ effective strategies. Vallee Real Estate can help you implement these strategies for success: 
➢
Competitive Pricing:
Vallee Real Estate has market insights to set competitive rents that attract tenants while covering your expenses.
➢
Regular Renovation:
Their experts can guide you on maintenance and enhancements that raise your property's value, ensuring a strong return on your investment.
➢
Selecting Tenants:
Vallee Real Estate's tenant screening services help you choose dependable tenants, minimizing risks and promoting on-time rent payments. 
●
Vallee Real Estate's Property Management Services
To make your life simpler, Vallee Real Estate provides property management services. As a result, you can save time and effort by having them take care of things like tenant screening, upkeep, and rent collection. 
●
Why Property Inspections Are Important?
Inspections should occur often. They aid in early problem detection, ensuring that your property is kept in good shape. Professional inspections can be helped with by Vallee Real Estate. 
●
Performing Research Before Making an Offer
Research is essential when purchasing a property. You must be aware of the market, the history of the property, and any prospective problems. Experts from Vallee Real Estate are available to assist you with this crucial step.  
Conclusion: Why Choose Vallee Real Estate for your Real Estate Needs?
 The appropriate support can make all the difference when it comes to your real estate investment. For all of your real estate requirements, Vallee Real Estate stands out as a trustworthy partner. This is why you ought to pick them: 




❖

    

Expertise and Experience

A team of professionals with years of real estate experience works for Vallee Real Estate. They are knowledgeable about the market and can assist you in making wise choices. 




❖

    

Comprehensive Services

Vallee Real Estate provides a wide variety of services to satisfy your needs, ranging from due diligence through property management. Hence, at every level of your real estate journey, they can help. 




❖

    

Saving You Time and Effort

You need to invest a lot of time in this field. The day-to-day responsibilities can be handled by Vallee Real Estate's property management services, giving you more time for other activities. 




❖

    

Reliable and Trustworthy

Vallee Real Estate is renowned for its dependability and professionalism. They'll take good care of your real estate investments, so you can trust them. 




Peace of mind is a benefit of selecting Vallee Real Estate. Therefore, you'll feel secure knowing that your real estate requirements are in good hands. Having a reliable partner is often essential for success in the real estate industry. You may navigate the real estate market with confidence while working with Vallee Real Estate because you will have a committed staff by your side at every turn. So, think about Vallee Real Estate if you're looking for a trustworthy partner for your real estate needs. Your real estate journey will become much simpler.